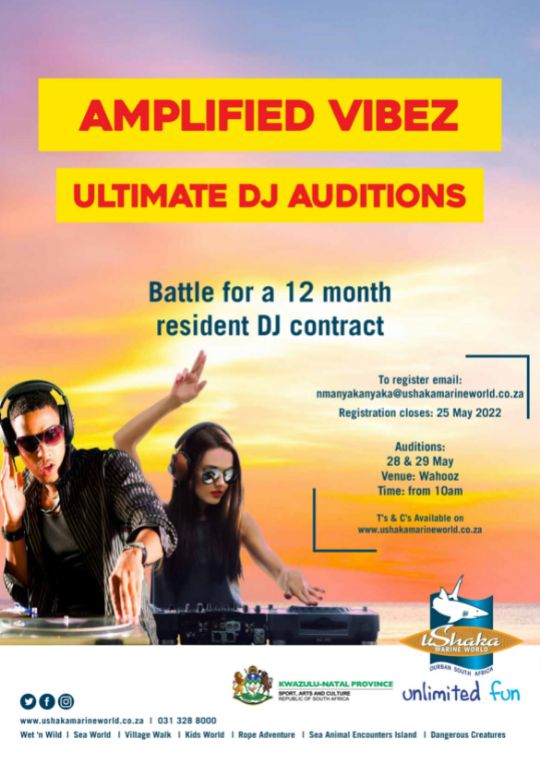 AMPLIFIED VIBEZ DJ AUDITIONS
Up and coming DJ's have a chance to be chosen as 1 of 4 resident DJ's at uShaka Marine World, if they enter the Amplified Vibez DJ Auditions which take place at uShaka Marine World's Wahooz on the Promenade, on 28 and 29 May 2022. This is the third battle of the DJ's to be held at Africa's largest Marine Theme Park in partnership with the KZN Department of Sport, Arts and Culture.


Entrants need to be undiscovered, DJ talents wanting to break into the industry. Must be 18 years and older. Registration will be open until Wednesday 25 May at 4.30pm.

To register, each aspiring DJ needs to email their full names, age, date of birth, physical address, cell number, email address and musical genre to nmanyakanyaka@ushakamarineworld.co.za


Entry is free and is open to DJ's of all genres. However, as uShaka Marine World is a family tourist destination, some DJ's may need to adapt their selection of music to suit our market.


uShaka Marine World will provide the following technical gear – 2 Pioneer CDJ 350, 2 Pioneer DJM 750 MK2 (4 channel DJ Mixer), 2 RCF ART 715 front PA speakers, 2 RCF sub series front PA (Bass bins(, 1 EV ZLX stage monitor, 1 Shure SM58 Cordless mic as well as a technician on duty during the DJ sessions.


The judges will base their selections on the DJ's choice of music, mixing ability, hosting ability and audience engagement. Most importantly, please note that vulgar and offensive language will be strictly prohibited.


The ultimate prize is a 12 month working contract at uShaka Marine World; giving you the opportunity to kick-start your career on the decks.


Make sure you familiarize yourself with the rules before the audition on the website link below.
For more information, contact 031 328 8000 during office hours.