CHIMP & ZEE ROPE ADVENTURE PARK
9Come and experience Durban's ultra-thrilling, new rope adventure park – with the longest continuous belay* system in Africa! Test your limits and challenge yourself at uShaka Marine World's Chimp & Zee Rope Adventure Park for only R195pp.

Trading Hours:

Wed-Fri : 10am to 5pm
Sat-Sun : 9am to 5pm

Pre-book on 0313321167 or 081 049 9146 or  ushaka@chimpandzee.co.za

LIKE US / FOLLOW US / BECOME A FAN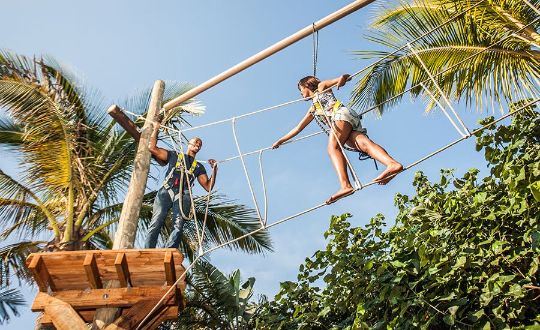 INTRODUCTORY JOURNEY
Not your average adventure park. Chimp & Zee's Beginner Rope Adventure offers 18 different elements throughout the journey, complete with two exciting zip lines over Rocky Reef and the turtle enclosures.

The child-friendly journey is low to the ground and is an easy introduction to rope adventure!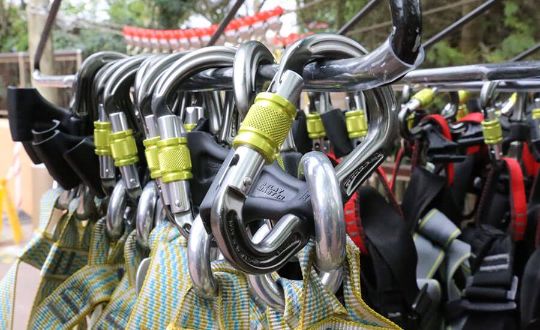 YOU'RE ALWAYS SAFE
One person per element
We allow only one person per element at a time ensuring the safely of each person partaking in the journey.

Continous belay system*
A belay system is mechanical device used during climbing. There is a continuous rope above your head that is attached to your harness for the entire duration of the journey. This means that as you go from element to element you will have a safe and secure line above your head. Even if you slip off one of the elements you will only go a very short and safe distance before your harness supports you.

Gear
You will be put into a safety climbing harness and a helmet to ensure that you are secure always.

Guides
Trained, friendly guides are available throughout the journey to constantly check everyone is happy and safe. They will check your gear as well explain how the journeys work.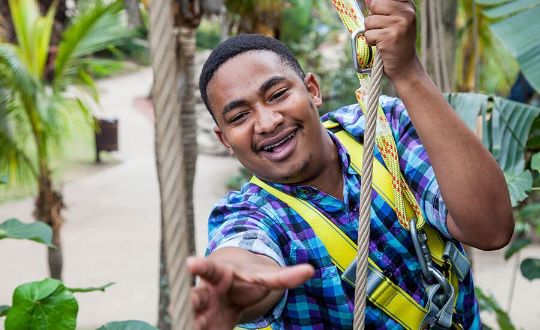 HOW TO BOOK
Running Wednesday to Sunday, the Chimp & Zee Rope Adventure Park will ensure fun for the entire family. The cost is
per person
(includes gear), minimum height of 1.2m (equates to a 6 or 7 year old child), maximum weight of 120kg.
Chimp & Zee utilises a belay roping system making each obstacle completely safe and comfortable. The adventure features an introductory journey comprising of 18 elements and an intermediate journey with 17 different elements. These can be combined to ensure a highly recommended
45 minutes of fun!
It is advisable to wear closed shoes or simply go barefoot.
Soar through the air, climb nets and see uShaka and your favourite marine life from an entirely new angle with our Chimp & Zee Rope Adventure Park. Fun for the whole family!

Group Bookings
: A 10% discount is offered to group bookings (minimum of 10 people or more).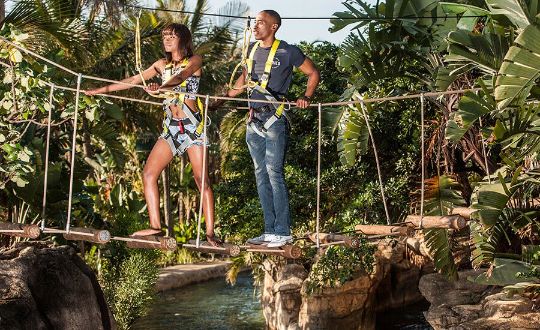 INTERMEDIATE JOURNEY
An exhilarating escapade filled with climbing nets and obstacles.

The adventure will certainly get you in touch with your wilder side, boasting 17 different elements and a double zip line over the snorkel lagoon for added thrill!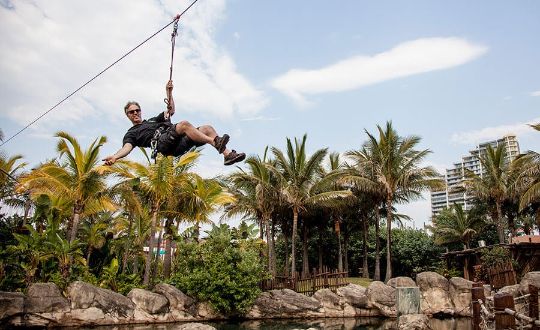 CHIMP & ZEE OVERVIEW
What to Bring
Closed shoes or go barefoot
Sunscreen
Comfortable clothing for the journey
Must wear a shirt or top
Long hair to be tied up
Fitness
A degree of physical fitness is required but if you can run up a flight of stairs, you should be fine.
Maximum weight 120kg.
Minimum height 1.2m.

Inclusions
One entrance per person onto the rope course.
All your safety equipment. Estimated duration is 45 minutes.
Exclusions
You will be passing over the top of the large aquarium tanks a few times, all loose materials, phones etc will need to be removed and either placed in a locker or given to a friend/family member.

Skills
No skills or qualifications are necessary, just a sense of adventure!

Departure Point
Shop H07
uShaka Village Walk
NOTE:
For health and safety reasons, food hampers, braais and cooler boxes are not allowed within the uShaka Marine World premises. Visitors to Chimp & Zee Rope Adventure Park are advised to wear closed shoes or go barefoot (slops not allowed), and due to the nature of the obstacles, there is a minimum height of 1.2m (which equates to a 6 or 7 year old child), maximum weight of 120kg.