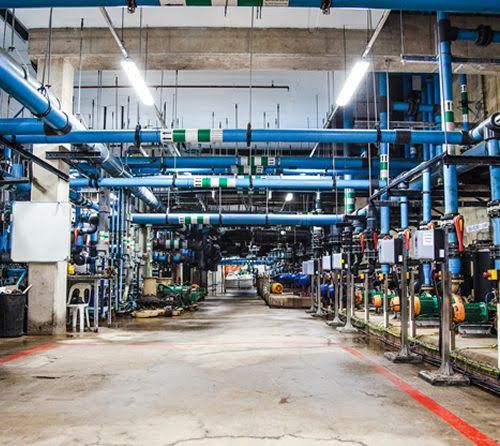 BACK OF THE HOUSE TOUR
(Not available until further notice)
Ever wondered how uShaka Sea World works? Come and find out by taking a peek behind the scenes. See for yourself how some of the specialised technical staff monitor this complex life support system.
On the Back of House tour your guide will take you along the path a drop of water travels from the ocean through kilometres of piping, protein skimmers, ozone generators, sumps, sand filters, exhibits, the gills of fish and invertebrates, bio-filters and so much more before it leaves uShaka Sea World and heads out to sea again.
9 Plantrooms
89 Filters
192 Pumps
Processing 22 million litres of water
Per day = 330 000 litres/hour
That is the same as 75 swimming pools filled with water.
Rehabilitation
Stranded animals such as seals, turtles and penguins are cared for in our specially designed facility. They are given immediate treatment on arrival and then nursed back to health and fitness before being returned to the wild. Please report any strandings to KZN Wildlife Hotline 083 380 6298.
Caring for the animals

The general well-being of the animals is the primary task of the teams of aquarists, veterinarians and animal health staff. With over 9000 animals, ensuring that each species receives a tailor-made diet is a challenge.The kitchen staff prepare an average of 100kg of fish, invertebrates and vegetables per day. The culture facility grows microscopic algae and animals for our specialised feeders such as corals, sea jellies and seahorses.
The water quality laboratory tests water in all our exhibits twice a day. The levels of various components such as nitrates, ammonia, oxygen and chlorine are checked to ensure that these natural compounds are within acceptable levels for animals.
The cytology laboratory is used to assess the blood collected during our regular health checks. The microbiology laboratory cultures and identifies bacteria, fungi and parasites. This warns us about potential problems as soon as possible.Each exhibit has its own dedicated life support system to prevent any possible cross-contamination.
This complex system is monitored and maintained 24 hours a day by a team of specialised technical staff. A computerised SCADS system controls variables such as water flow rates and ozone levels, ensuring optimum water quality in each exhibit.


Life Support Systems

The health of animals in our care is directly reliant on clean water, free from harmful organisms and chemicals. We have a state-of-the-art system that ensures clean and clear water in each exhibit. New sea water enters through a system of pipes sunk into the sand below Ushaka Pier. Each exhibit's water is pumped through a system of biological filters, protein skimmers and sand filters.


Tour and Contact Details
The tour takes place at 14:00
Off peak season – Wednesday to Sunday
Peak season – Monday to Friday
Book at Animal Encounters or call 031 328 8000
We are able to accommodate a minimum of 5 and maximum of 15 guests per day
The tour takes approximately 60 minutes
The minimum age for the Back of House Tour is 12 years
Participants between 13 and 16 must be accompanied by a participating adult (we require 1 adult [over 17] for every 4 participants aged 13 to 16)
The tour is not suitable for prams, bambino's or those unable to climb or descend stairs with ease.
SAAMBR reserves the right to cancel the tour, or part thereof, due to animal or housekeeping concerns.
Each guest must sign the appropriate indemnity form
Participants must wear flat, comfortable shoes
Prices are subject to change without prior notice