DASHING DOLPHINS
Our 10 dashing dolphins delight and touch the hearts of uShaka Sea World guests every day with their unique personalities and irresistible charm. The dolphins and their trainers look forward to having you join them at a show soon.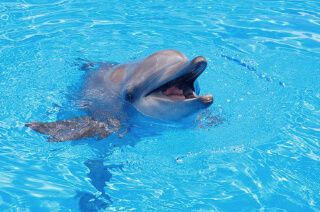 ZULU
Zulu is a very energetic dolphin and her enthusiasm never fades. She is the youngest in the female group and gets along with everyone. She doesn't like sharing and if she sees finds an opportunity will steal the other dolphins toys.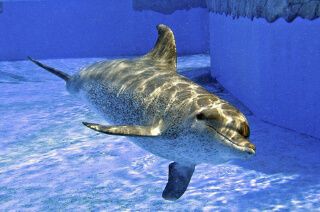 FRODO
Frodo is the only Indian Ocean bottlenose dolphin at uShaka Sea World and is a proud mother of 6 of the babies born at uShaka Sea World and grandmother to 1. She is the best mother any baby dolphin could wish for, as she always keeps a watchful eye while allowing her calf to explore, learn and gain their confidence. She is easily recognized by the freckles on her tummy. These develop on the Indian Ocean Bottlenose dolphins as they get older.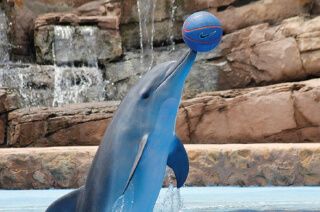 KHETHIWE
Khethiwe is the youngest dolphin at uShaka Sea World. She was born on the 25th of November 2008. She is learning very quickly and loves to play, her favourite game is spraying the trainers and her favourite toy is the hose and water spouts.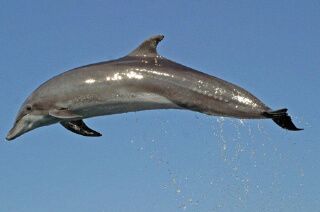 KHELPIE
Kelpie was the first dolphin born at Sea World. He is well known for mimicking one of our safety alarms. Kelpie is a very good time keeper; he always lets the trainers know that it is training time by singing to them.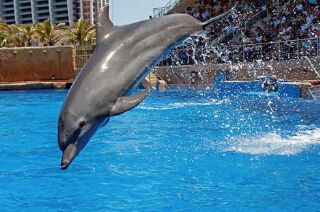 KHWEZI
Khwezi is a very excitable dolphin. He loves to get things right in training and loves to show off. He is a very assertive, confident dolphin who loves learning and being first at everything.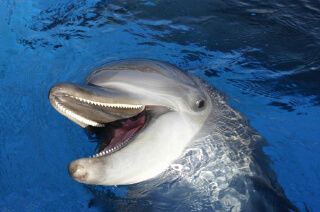 INGELOSI
Ingelosi is the youngest male at uShaka Sea World. He has a gentle and very trusting nature and lives with 2 older males. He often gets up to mischief with his older brother Khwezi. He is known to enthusiastically swim off to show the trainers something his brothers have taught him and has been seen practising new behaviours even when he is not in sessions.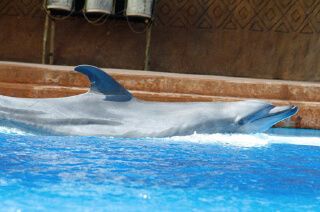 TOMBI
Tombi is the oldest in the female group. She is a perfectionist and a very creative dolphin. She likes to put an extra effort into her training sessions.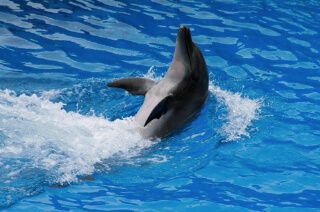 KHANYA
Khanya is a granddaughter at uShaka Sea World as her mother and father were both born at uShaka Sea World. Khanya loves her solo attention and is always interested in what the trainers are doing, even when they are scrubbing the pools or eating their lunch. There is only a 2 month age gap between Tombi and Khanya and they are almost inseparable as they grew up learning together.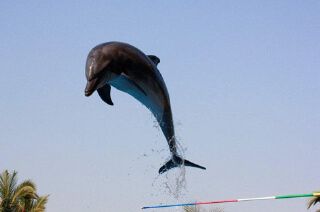 AFRIKA
Affrika is the only pure bred female Atlantic Ocean Bottle nosed dolphin with a very dark stripe down her back. She is full of fun, love and caring for her sisters.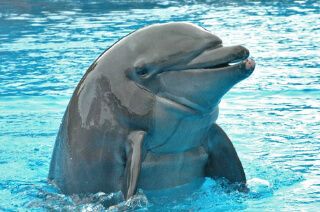 GAMBIT (RIP)
Gambit left us on the 20th of April 2020. His death was a result of an age-related concern. Words can never honour his memory. His remarkable presence is sorely missed daily.

Gambit was believed to be the largest bottlenose dolphin in any oceanarium in the world. His average weight was around 490kg and he was 3.65m long. In 2019 he celebrated his 48th birthday and at the time of his death, was one of the oldest dolphins to ever be documented. He was father to 7 of the 9 dolphins born at Sea World and grandfather to 1. He was especially close to Frodo, a female dolphin who was mother to several of his children. He was a true ocean ambassador, since 1976 and helped us share a message of conservation in a way no human could. He had an energy and presence that was remarkable.

This gentle giant stole the hearts of all he met; learners, visitors, Reach for a Dream children, celebrities and politicians. He delighted and inspired generations of human beings. Many adult guests reported enjoying Gambit as a child and were thrilled that they were able to share the same magic with their children.

Gambit was a teacher, a performer, an inspiration and an ocean ambassador. His legacy will live on and continue to inspire our conservation work. Rest in Peace, our Beloved, Gambit.