GAMBIT THE LEGEND
We are mourning the passing of one of our greatest icons – Gambit the Bottlenose Dolphin.
This patriarch of Africa's largest marine theme park passed away this afternoon (20 April, 2020), leaving a huge hole in the lives of not only the
team at SAAMBR
who cared for him for decades but also the greater uShaka family.
"This is just another sadness for all of us as we face the Covid-19 pandemic and the lockdown of both uShaka Marine World and our country. Gambit was a legend and is fondly remembered not only by those of us who work here but also the hundreds of thousands of local, national and international visitors who have been fortunate to visit the world's 7th largest aquarium and enjoy the many shows in which he has starred over the years. Gambit was a central figure in uShaka's legendary annual Dolphins by Starlight show and has helped all of us to spread a powerful message regarding the need to conserve our precious marine environment as well as the beautiful sea animals that depend on it for their survival," said
Dr Stella Khumalo, our chief executive officer.
She said that as uShaka said goodbye to Gambit, it was important to remember his huge legacy and to continue to build on this, spreading the very many messages of goodwill that emanated from the dolphin shows that remain a major attraction at uShaka. "Gambit brought so much joy into the lives of those who have passed through our turnstiles and, once the lockdown is over and all is back to normal, we will pay our respects to this beautiful symbol of everything that uShaka Marine World stands for," she added.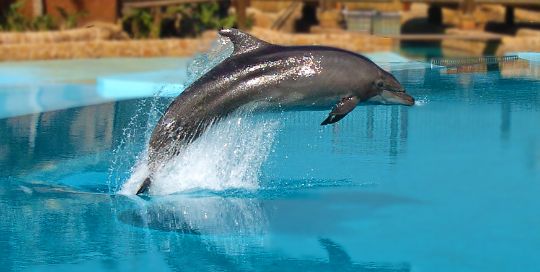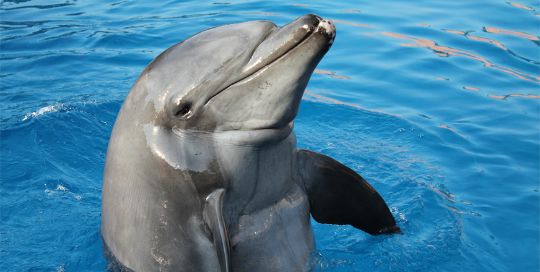 Farewell Gambit
Today (April 20, 2020) both the uShaka and SAAMBR team is mourning the death of Gambit, our beloved bottlenose dolphin who passed away this afternoon.

Gambit was a true South African icon and a legend in his own right. He has helped to inspire millions of people to care for the ocean and has had a direct influence on the lives of many thousands of people who have met him.

Undisputed patriarch of uShaka Sea World, Gambit was father to five and grandfather to one of the uShaka Sea World dolphins. A consummate showman, Gambit was always keen to take part in anything going on in the dolphinarium. Gambit celebrated his 48th birthday last year, one of the oldest dolphins to ever be documented. In recent months though, Gambit was beginning to slow down and show signs of his age and was being carefully monitored by our animal care and veterinary teams.

"His passing today was unexpected but thankfully swift, leaving an enormous hole in the hearts of the uShaka Sea World team, many of whom have worked with Gambit for over 20 years," said Gabby Harris, assistant curator of SAAMBR's Mammal and Bird Department.

Dr Larry Oellermann, CEO of SAAMBR expressed his deep sadness and support for the uShaka Sea World team. "I have known Gambit since 1977, when I first met him as a teenager visiting the old Durban Aquarium. The awe he inspired in me then was one of the reasons I became a marine biologist", he said. "My thoughts go out to the team who have worked so closely with Gambit over the years. All of us at SAAMBR share their loss."

The outpouring of affection for Gambit in the hours after his death have made it clear just how much he has impacted the lives and hearts of so many people, and how important it is to have a personal connection with nature. Gambit allowed countless people the opportunity to peer beneath the sea and meet one of its great ambassadors. He has played a vital role in SAAMBR's mission to connect people to the life of the ocean.

"Our challenge is to translate this outpouring of compassion into meaningful action for our oceans, as we continue to work towards conserving our oceans not only for dolphins, but all marine life" said SAAMBR's Conservation Strategist, Dr Judy Mann.