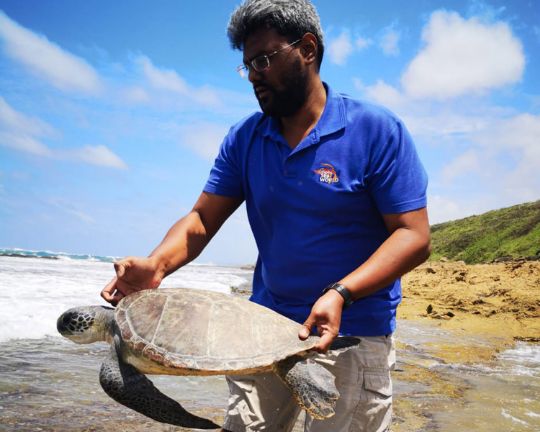 Back to the sea – SAAMBR releases two green turtles
Earlier this morning after spending nearly five months in specialised care, uShaka Sea World reintroduced two subadult green turtles to the ocean. Mission Rocks, which is situated within the iSimangaliso Wetland Park was chosen as the ideal release site as it falls within a Marine Protected Area.

"Green turtles are one of the 5 species of turtles that find refuge in iSimangaliso's protected coastline. The turtles of iSimangaliso have received significant conservation attention producing a noteworthy increase in the turtle population. The challenge for the iSimangaliso Authority, as site managers, is that once turtles leave the Park's shores and swim across the high seas, they become vulnerable to various threats including long line fishing methods and pollution. We are grateful to SAAMBR's selfless dedication to caring for these vulnerable species" said Mr. Jabulani Ngubane, Executive Manager: Tourism and Business Development, iSimangaliso Wetland Park.

Loki who arrived on the 1st July 2020 after being found on Zinkwazi Beach, was positively buoyant and lethargic on arrival. Initial radiographs showed some cause for concern with regards to his lung tissue. Thankfully he responded well to treatment and his recent diagnostics were all clear. He therefore presented no further cause for concern and was fit for release.

When Thor was brought in by KZN Wildlife, he was positively buoyant. Although he did start diving shortly after his arrival he was unable to maintain neutral buoyancy and therefore needed to remain in the hospital under medical care. Thor's journey to full recovery followed a similar path to Loki's and he too was given the all clear for release.

"I am delighted with both Loki and Thor's recovery and have no doubt that they will adapt really quickly again to their natural environment," said Senior Aquarist Malini Pather.