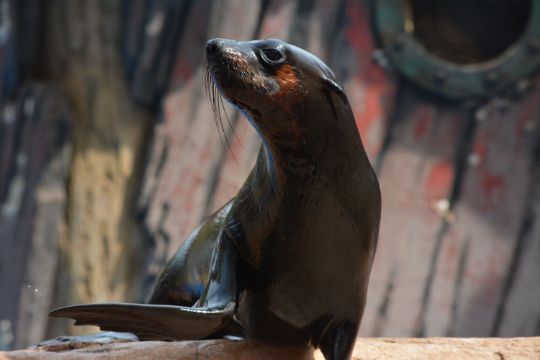 simba update
We last reported on our youngest seal Simba, just before he was about to meet the resident seals in the uShaka Sea World seal colony.

After spending a few months (on two separate occasions) in the care of Bayworld's seal rehabilitation staff, Simba was declared un-releasable and in need of a permanent home. uShaka Sea World was the obvious choice of a suitable home and after being given a final health check, he was flown to Durban.
Once Simba arrived at SAAMBR, he settled down quickly and it was clear that everyone who met him, became instantly smitten. The team spent time building a foundation of trust before they were able to introduce him to the larger seals in the colony. It was clear that he was a quick learner and had no trouble in ensuring that the staff catered to his preferences, needs and whims.

He is now a fully integrated member of the seal colony and although he is accepted by all the seals, he has developed a special bond with Nala.

It is easy for visitors to the seal stadium to identify Simba. Not only is he noticeably smaller than any of the other seals but he makes the most noise out of all the seals. Much like a young puppy, he is either moving at great speed, eating, finding someone to play with or sleeping.