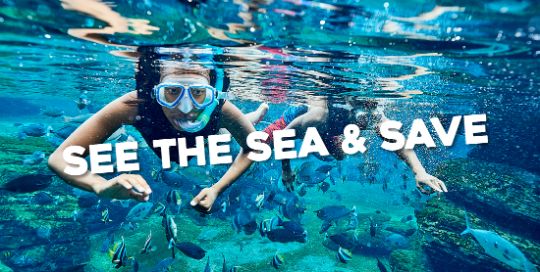 SNORKEL FOR ONLY R70
Fancy a snorkel without having to head off to an exotic island?
What:
Get to explore the nooks and crannies of the Snorkel Lagoon and peek beneath the waters along the KZN coastline. Float and simply take in the spectacle – shining corals, gleaming fish and perfect peace.
When:
Mondays & Tuesdays only
From 9h30 to 16h30
During Off-Peak Season 
Cost of this offer:

For only R70, get a snorkel and dive mask, all included in the price and be awed by the beauty of our seas right here at uShaka Marine World!

You don't even have to buy a ticket to Sea World or Wet 'n Wild to access Sea Animal Encounter Island so come through and only pay R70 for 30 minutes of fun & adventure! (Save R41.00)


Please note:

This offer is not available during Peak Season (school holidays & public holidays)
This offer is only valid during Off-Peak Season (Click here to see what season we are in)
on Monday's & Tuesday's only Between 9:30-16:30
From 5 year old +
 
Price is subject to change without notice