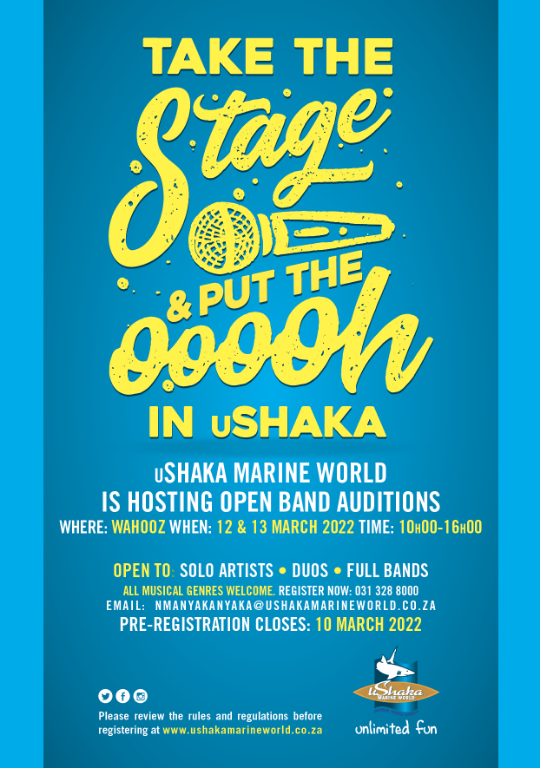 Get set to enter uShaka's TAKE THE STAGE!
Aspiring musicians and bands have a chance to be chosen as resident performers at uShaka Marine World.

If that's you, make sure that you enter the TAKE THE STAGE Band Auditions taking place at Wahooz, uShaka Marine World on 12 & 13 March 2022.

This is the second edition of the TAKE THE STAGE to be held at Africa's largest marine theme park. Entrants must be undiscovered, and eager to break into the industry.

Pre-registrations will be open from Tuesday, 3 March – to Thursday, 10 March 2022.

To register, each aspiring musician/band should email his/her full name, age, date of birth, physical address, cell number, email address, number of people in the band and musical genre to nmanyakanyaka@ushakamarineworld.co.za. Entry is free and is open to aspiring musicians of all genres. However, as uShaka Marine World is a family tourist destination, some musicians might need to adapt their selection of music to suit our market.


The ultimate prize is a 12-month contract to perform at uShaka Marine World; giving you the opportunity to kick start your career on the stage. Full rules and regulations are available on www.ushakamarineworld.co.za Make sure you familiarize yourself with the rules before the audition.

For more information, contact uShaka Marine World on 031 328 8000.

Strict Covid-19 protocols to be followed.

Click here for T's and C's