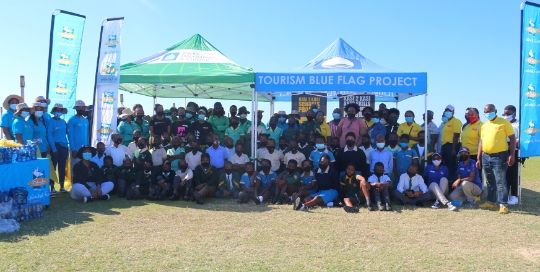 USHAKA BEACH CLEAN UP INITIATIVE
In partnership with
SAAMBR, Kasi 2 Kasi, Parks and Recreation and Tourism Blue Flag–WESSA
launched a beach clean-up campaign on 12 May 2021. The campaign seeked to assist and participate in the general upkeep and cleanliness of the surrounding beaches, and educate local schools on the importance of keeping our beaches clean.
Following the beach clean-up, we treated the group to a visit in park to experience what the facility has to offer. Visiting the park today were representatives from Kasi 2 Kasi and teachers plus 49 learners from 3 schools in Clermont, namely Etshelihle Primary School, Phephile Primary School, Christianburg Primary School.
Mr Ndabo Khoza, CEO for uShaka Marine World, said, "Our driving motivation and primary ambition is to improve and ensure the health of our ocean. It is critical to have an ongoing campaign of this nature as means to keep our beaches clean and thus save the lives of sea creatures. This campaign encourages responsible usage of our beaches and at the same time is an opportunity to expose learners from surrounding townships to marine biology and all that uShaka has on offer."
Dr Lwazi Nqetho, Kasi 2 Kasi Director, said, "I am truly honoured to be participating in these great initiatives which expose the children to such great endeavours".
Our mission is to keep surrounding beaches clean and healthy and to empower local school going children and guardians of our oceans. A special thank you to our partners for coming on-board to assist with this initiative; SAAMBR, Kasi 2 Kasi, Parks and Recreation and Tourism Blue Flag-WESSA.