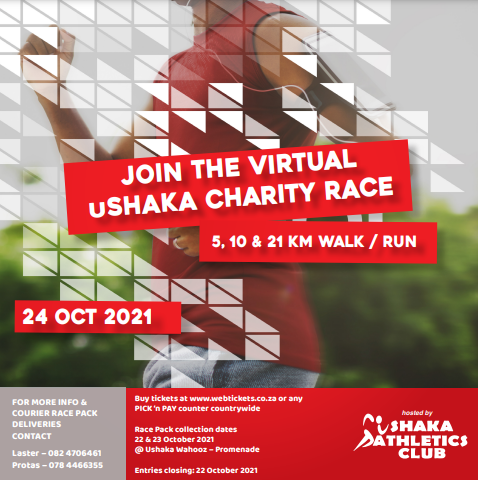 uShaka virtual charity race on course for 24 October
The uShaka virtual charity race takes place on Sunday 24 October 2021, where runners have a chance to complete a 5, 10 and 20km walk/run. There is nothing like a bit of competition to get runners going and this is certainly the case at this event.
This virtual event will see runners conveniently participate from the comfort of their neighbourhoods within the borders of South Africa. Participants can run alone, with a friend or in with group of runners. Runners will have to measure the distance log with a GPS tracker or with one of the many Apps available for runners and then forward results to
www.ushakarace.co.za
To purchase a ticket, visit
www.webtickets.co.za
or at any Pick 'n Pay counter nationwide. Participants will receive a quality t-shirt and a medal.
The uShaka virtual charity race committee is incredibly grateful to the runners and sponsors/partners for their continued support.
Gather your friends and family and let's get back out there!
For more information and courier race pack deliveries, please contact – Laster
082 470 6461
or Protas
078 446 6355