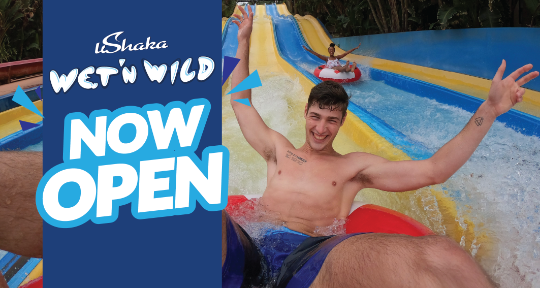 USHAKA WET 'N WILD ADJUSTS CAPACITY
Get ready to splish, splash & slide around for some Unlimited Fun with your family!
UPDATE: 01 October 2021

Following the movement to adjusted alert Level 1 lockdown, uShaka Wet 'n Wild has revisited its operations in order to update accordingly.

In order to ensure more guests have access to the Park during these times, and accommodate the current COVID-19 restrictions, we introduced two 4 hourly sessions to choose from. Each session is now limited to a total number of 2000 guests at a time, as outlined in the Government Gazette (COGTA).

Wet 'n Wild Operating Hours to Choose From:
09h00 – 13h00
13h30 – 17h30

Please note that there will be a half an hour break in between sessions in order for the cleaning department to disinfect the Park.

Wet 'n Wild Rates:
Wednesday – Sunday (and Public Holidays) : R157 per person

Tickets will only be sold at the park. To manage capacity and accommodate the current restrictions, admission will be allocated on a first come, first serve basis. 
Ticketing Office closes at 4:30pm daily for Wet 'n Wild tickets.

Please take note of the following:
Due to the restrictions of capacity, the following facilities will not be operational for the time being:   
– The Duzi River and Duzi Slide

Our guests will be able to enjoy the following facilities:   
– Highest Slide   
– Drop Zone   
– Five Lane Racer  
– Mamba   
– Cuda  
– Torpedo  
– Adult Pool   
– Kids Slides  
– Kids Pool 
–Jika Jika (Family Rafter) 
– The Body Tornado 

uShaka Marine World continues to implement COVID-19 protocols. Among the safety measures are temperature checks, wearing of masks and ensuring that all guests and employees continue to social distance.

So gather your squad and head on down to uShaka Wet 'n Wild and enjoy the sunny weather, spectacular views and have some Unlimited Fun splashing down the slides. 'Sea' you soon!