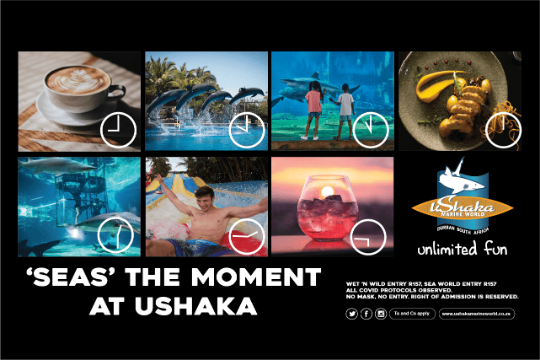 "Seas" the moment at uShaka
Seas the moment with an uShaka experience this festive season.

Ready or not, summer is here and so is the silly season. A season of unlimited fun while being responsible. Try something out of the ordinary with some exciting offerings at uShaka Marine World this festive season. With an array of exciting activities designed to keep you and your family entertained while offering you total relaxation and enjoyment, uShaka provides memorable experiences for the whole family.

There is no limit to the fun you can have while creating your best memories with your loved ones -
Dive into a splashtacular family day out, where summer is endless and so is the fun. Enjoy a world class line-up of pools and slides for little adventurers and brave thrill seekers.
Explore the Aquarium.
Catch one of our daily dolphin shows at the Dolphin stadium and dance along with our famous dolphins or walk on the ocean floor.
Enjoy a diverse culinary experience at Cargo Hold and soak up the summer sun
Snorkel in the crystal clear waters at Sea Animal Encounter Island.
Enjoy the charm of the sunset whilst sipping on a cocktail at Wahooz.
Show your loved ones that you care, visit the Village Walk for a delightful and unique gift shopping experience.

The options are endless.

Embrace the magic, this season calls for merriment and joy.
Come through to experience an authentic Durban summer and feel the enchantment of the holiday spirit the uShaka way!

For more information select an option below